Back in Kernersville (the land of plenty and unofficial center of the universe), the house in which I grew up is still there.  Every now and then, I check up on it by seeing if there's a new picture in Google Maps. As far as I know, the house itself looks pretty much the same. The driveway coming up the hill, the Japanese Maple that sits like a sentry in the front yard, so many things in the front of the house that haven't changed.
The woods behind the house – well, that's a different story. What used to be the edge of a forest with gullies and old-growth trees is now the back end of a subdivision and the outer edge of a county park. Not only is that where I spent many days walking with my dogs, that backyard is where I buried all the pets who were such an important part of my childhood.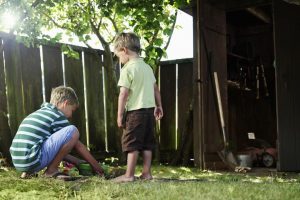 Rocky, Smitty, Brandy, Festus, Snowball. After their time had passed with us, we buried them back there.  Burying pets in the backyard is what everyone did back then.
Things are different now. Growing suburbanization, smaller lots, and municipal regulations make a backyard pet burial a more difficult choice. Most families move houses every 3-7 years. Many counties (such as Wake County) require that any animal burial be at least three feet deep, avoid buried utility lines, and be a certain distance from any well. Many Homeowner Associations and neighborhoods don't allow for it at all.
Companah provides a means for families to say goodbye to their pet that gives them a way to take care of the remains of your pet in the most environmentally-friendly and respect-filled way possible. If you would like to scatter the ashes in a flower bed in your back yard, bury them in a bio-degradable vessel, plant a tree, or even keep the remains in your home – cremation makes all of those options available to you.