Pet Cremation Service
A modern, sustainable, and respectful means of taking care of your companion.
If your pet passes away at your home, we can come to you to pick up your companion. No matter if it was an expected or unexpected event, we understand how difficult the occasion is – we're here to make things a bit easier. Just give us a call or send us a message, and we'll be able to meet you at your home on the same day.

Companah is a North Carolina company, here to serve you and your family with pet and animal cremation services when you need us. We offer the most advanced and respectful means of taking care of your pet after he or she passes away. Their remains are returned to you in a personalized urn or memorial of your choosing. Companah provides pet cremation urns, memorial jewelry, and keepsakes available for delivery to your home.
Companah offers private pet cremation or group cremation services. We offer water cremation – which is a gentle, environmentally-responsible process (it's also referred to as alkaline hydrolysis). Using water flow, low temperature and minerals, it is more like the natural decomposition that occurs after burial than any other body disposition method – water cremation just accelerates the natural process of soft tissue hydrolysis.
After the water cremation process, only the mineral ash of the bones remain – pathogen and disease free. Unlike flame-based cremation, which releases harmful greenhouse gases, the remains contain no black, carbonized ash.
Along with providing pet cremation services, we also offer unique urns and memorial products.
Engraved Wooden Urn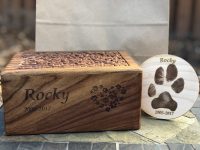 This collection includes a wooden urn engraved with your pet's name and a paw print, also engraved. This urn holds your pet's remains and will provide a permanent memorial to the life of your companion.
Green Burial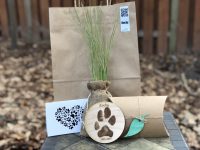 As you remember your pet, we can offer a collection that includes an engraved paw print, a biodegradable urn, and a seedling that you can plant either indoors or outside. The seedling is a beautiful Carolina Pine that is locally-sourced and will provide a new an long-lasting memory of your companion.
We are available to come to your home or vet to take your companion into our care. After-hours pickup may also available.
"Until one has loved an animal, a part of one's soul remains unawakened. " – Anatole France