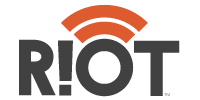 We're thrilled about this – Companah has been selected to participate in the 2019 NC RiOT Accelerator Program! The RIoT Accelerator Program (RAP) provides robust support for Internet of Things companies and intellectual property to commercialize products and bring them to market.
You might be thinking – why in the world would a group like NC RiOT be interested in a pet cremation company? And what can IoT technologies offer to a group like Companah?
We know that one of the most important things we can offer to pet owners is assurance that their pet will be returned home.
Companah does everything we can to safeguard our process and ensure pet owners that, when their pet comes home in a memorial, it is actually the remains of their pet. Companah is building a solution that will provide that assurance for our pet owners and veterinary partners. NC RiOT will allows us to work with an industry consortium of more than 75 companies across the IoT value chain. Partners provide access to resources and investment capital necessary to launch new products and services.
We are already offer a respectful and sustainable approach to cremation – and now we will be able to offer a means of assuring and informing pet owners of our careful stewardship of their companion while they are in our care.